Something to "Wine" About Article by Stevie F. Rushing Featured Author
Posted
September 2019
This past May, my mother, sister, and I traveled to Napa Valley for a week of California food, wine, and sunshine. True to form, my mother managed to find the California version of Fairhope, Alabama to be our landing spot. St. Helena is centrally located in Wine County and renowned for its downtown area. Nicknamed "Napa Valley's Main Street," the area features charming shops, bakeries, art galleries, and restaurants like the acclaimed Goose & Gander.
Everything in St. Helena seems carefully curated to achieve a calm, Ina Garten-esque aura. Even our "home" for the week was no exception. The Wydown Hotel houses only twelve rooms, each accented with unique furniture, art, and other amenities that made it feel more like your new urban loft than a hotel room (i.e., no paper coffee cups here). And every morning begins with a continental breakfast featuring local fare. As for the evenings, yes, there are freshly baked cookies.
The charm only gets worse when you leave the main drag. Our first stop every morning was Oakville Grocery, where we scanned row after row of wine, oils, teas, and dry goods before compiling a lunch for later in the day. Since 1881, the Grocery has provided locals and visitors alike with fuel and fellowship. Whether you need to stock up for a winery picnic or drop in for a quick meal, the Grocery has everything you need — literally; they also have clothing.
But of course, the main reason we came to California was for the wine. California wineries compete not only in selection but also in ambiance. And that ambiance runs the gamut, from Castello di Amorosa, an authentically styled 13th century Tuscan castle winery, to HALL, with its minimalist interior and extensive collection of modern art (which includes the 35-foot tall steel rabbit that welcomes you). Each winery truly had something unique to offer — that is, until we reached the end of the tour and the sales pitch began. At that point, a leveling playing field emerged: No winery would ship to Mississippi.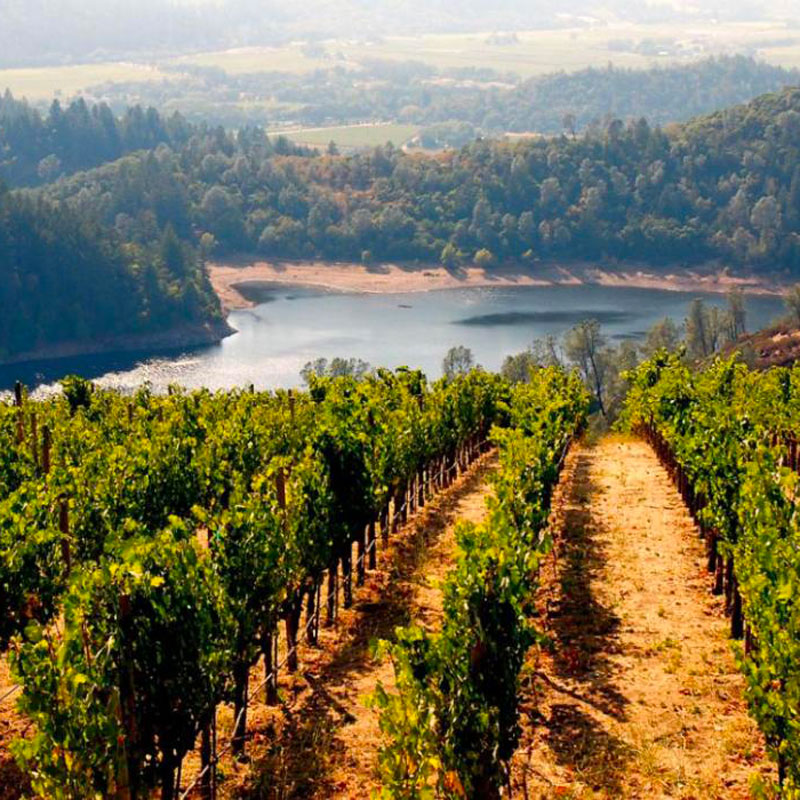 Indeed, Mississippi is one of a handful of states that don't allow wine to be directly shipped to someone for any reason. Instead, under the three-tier system, the State of Mississippi is the lone wholesaler of alcoholic beverages. And all alcoholic beverages must ship to a centralized warehouse in Gluckstadt, Mississippi, where they are held until ordered by retailer package stores. But an active lawsuit may change that.
In early 2017, the Alcohol Beverage Control Division of the Mississippi Department of Revenue and the Alcohol and Tobacco Enforcement Division of the Mississippi Attorney General's Office began investigating shipments of alcoholic beverages into Mississippi. That investigation reportedly discovered that companies were illegally shipping wine into Mississippi, including to underage Mississippians and dry counties. In December 2017, Attorney General Jim Hood and the Commissioner of Revenue filed a civil enforcement action to compel compliance with Mississippi's Local Option Alcoholic Beverage Control Law, Miss. Code § 67-1-1 et seq. Those sued include Wine Express Inc. of Mount Kisco, New York; the California Wine Club of Ventura, California, the Gold Medal Wine Club of Santa Barbara, California and Bottle Deals Inc. of Syosset, New York. Only three companies responded to the lawsuit. In August 2018, those companies convinced Rankin County Chancery Court Judge John S. Grant III that Hood lacked personal jurisdiction over them.
A key question in the trial court and on appeal is whether the Uniform Commercial Code can define the contacts relevant to establishing personal jurisdiction. 1 The wine companies believe so, contending that because the shipment contracts were "Free on Board," title to the wine passed outside Mississippi —meaning that under the UCC's definition of "sale," all sales occurred outside Mississippi. This, the wine companies contend, combined with the companies' lack of physical presence, employees, business permits, property, or advertising in Mississippi, precludes a Mississippi court from exercising personal jurisdiction over the wine companies. Hood, however, contends that such "technicalities in private contracts" do not control. Instead, Hood points to the interactivity of the wine companies' websites, along with facts like the wine companies' knowledge of the purchasers' residence and the number of sales made to Mississippi residents.
In addition to the UCC's impact on personal jurisdiction, the parties dispute the constitutionality of Mississippi's direct-shipment law. 2 The wine companies believe such laws violate the Dormant Commerce Clause by depriving Mississippi residents of their access to out-of-state markets and impeding interstate commerce. Hood disagrees, arguing that the direct-shipment law treats all businesses, both in and outside of Mississippi, the same, because all direct-to-consumer shipment of alcoholic beverages are prohibited.
In sum, we may just yet be able to ship our California wine back home to Mississippi. But until then, take good notes on your next trip to Napa Valley and pray that your local wine store has good taste in California cabs.
---
The arguments and analysis contained in this article derive entirely from the author's personal reading of the appeal briefs.
Appellants contend that this issue was not raised in, briefed for, or addressed by the trial court and therefore is not properly on appeal.