Medgar W. Evers "Turn me loose." Article by John C. Henegan Featured Author
Posted
May 2013
Medgar Wiley Evers was 37 years old when he was fatally shot while standing in the driveway of his home at 2332 Guynes Street in Jackson, Mississippi. It was shortly after midnight, June 12, 1963. His assailant, hidden in the honeysuckle that overran the vacant lot across the street, waited patiently in the oppressive night air for Evers to come home. Evers had been at yet one more mass community meeting that evening, organizing for the NAACP, or maybe some other civil rights group.
A single rifle shot hit Evers in the back. The sniper's bullet came out Evers' chest, shattered the living room window and venetian blinds, blasted through the living room wall, and ended its parabola of death in the Evers' kitchen, where the police later recovered the bullet. The full length of Evers' body fell along the concrete driveway, and he began hemorrhaging massively. His wife, Myrlie Beasley Evers, had been waiting up along with their three children to hear about his day. Hearing the rifle shot and shattering of glass, she came rushing out of the house, kneeling down to comfort him as she cried to the gathering neighbors to call for an ambulance. Evers died shortly after arriving at the University of Mississippi Medical Center. His last words were, "Turn me loose."
Earlier that day, Governor George Wallace had stepped out of the University of Alabama's administration doorway as two African-Americans enrolled for the first time in Tuscaloosa. That evening, only a few hours before Evers died, President John F. Kennedy gave the first civil rights address by a sitting President on prime-time television and national radio. He told the nation that in responding to the unfolding events of the civil rights movement:
We are confronted primarily with a moral issue. It is as old as the Scriptures and is as clear as the American Constitution. The heart of the question is whether all Americans are to be afforded equal rights and equal opportunities, whether we are going to treat our fellow Americans as we want to be treated.
Referring to the recent "events in Birmingham and elsewhere" — which included Evers' own public demand that the Mayor of Jackson agree to the same concessions that the City of Birmingham had just given its black citizens — President Kennedy explained, "We face, therefore, a moral crisis as a country and a people … A great change is at hand, and our task, our obligation, is to make that revolution, that change, peaceful and constructive for all."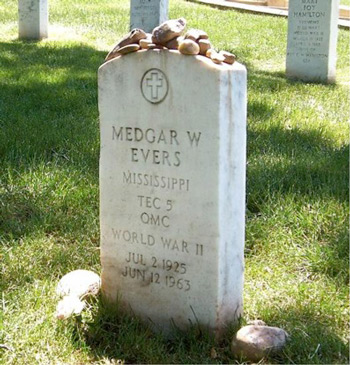 Evers' assailant had decisively rejected the President's call for a peaceful revolution, continuing an extended period of oppression and violence across Mississippi and elsewhere, a time when it became unsafe for African-Americans to worship in the sanctity of their own churches on Sunday mornings. Consciously or subconsciously, the bullet that felled Evers reminded a nation of Jefferson's foreboding prescription that the "tree of liberty must be refreshed from time to time with the blood of patriots and tyrants."
When he died, Evers was a patriot at the epicenter of the civil rights movement. For the past decade, Evers had worked as the Mississippi Field Secretary of the NAACP. He organized its local branches, which primarily attempted to end the segregation of public accommodations, facilities, educational institutions and employment through negotiation and litigation. As Field Secretary, Evers quietly but courageously investigated the deaths of local African-Americans, including the murder of Emmett Till, worked on voter registration drives, and assisted NAACP-sponsored litigation to end segregation of state-owned public schools and universities.
The NAACP was viewed by many of Evers' contemporaries as the movement's most conservative organization; national leaders of the NAACP publicly and sharply criticized the tactics and efforts of leaders such as John Lewis with the Student Non-Violent Coordinating Committee and the Reverend Martin Luther King, Jr. with the Southern Christian Leadership Conference.
Nonetheless, Evers helped organize the local logistical and legal support for the members of SNCC and SCLC and the students and professors at Tougaloo College. Men and women, white and black, were arrested for attempting to desegregate Jackson's interstate transportation facilities, for picketing local businesses, or for sitting at local food counters and soda fountains.
Throughout this time, Evers primarily worked behind the scenes, allowing other civil rights leaders, such as King, to be the center of media attention. Evers first garnered widespread attention when he appeared on local television a few weeks before his death to reply to Mayor Allen Thompson's comments about the status of the City of Jackson's negotiations with the NAACP.
In his 10 years with the NAACP, Evers and his family received numerous death threats, and, prior to his death, one or more people had unsuccessfully attempted to fire bomb or shoot into the Evers' home. Afterwards, the NAACP had offered Evers a job in California, but he turned it down. Mississippi was home, the place where he had lived his entire life except while serving in military.
During World War II, Evers left Newton Vocational School in Decatur, Mississippi, before graduating, and enlisted in the U.S. Army, infantry division. He served as a T.E.C.5, which was a grade above corporal, driving supply vehicles for the celebrated Red Ball Express. He landed in Normandy at Omaha Beach, shortly after D-Day, while the bodies of dead Allied soldiers were still lying on the beach.
For the next three months, the Red Ball operated out of St. Lo, Normandy. Seventy-five percent of its drivers were African-Americans who then served in segregated units and were not permitted to use weapons in combat. The Red Ball provisioned the supply lines for the First and Third Armies as they raced to push the German army across the Seine and out of France. Its drivers operated around the clock, racing at high speeds during the day to avoid German Luftwaffe and moving at a snail's pace at night without lights to avoid enemy patrols. When it ended operations, the Red Ball's routes extended 300 miles for the First and 400 miles for the Third. While in service, Evers received two combat stars and a Good Conduct medal as he fought to help free Europe from the tyranny of fascism. Honorably discharged on April 16, 1946, Evers returned to Newton County, Mississippi, where he had been born on July 2, 1925, in Decatur.
Shortly after returning home, Evers registered to vote under a state law that waived the poll tax for returning servicemen. He was never allowed to vote in Newton County. Twice Evers, his brother Charles, and a couple of other African-Americans were turned away when attempting to vote in the 1946 democratic primary against the incumbent U.S. Senator, Theodore Bilbo, who won by 51 percent. Numerous other African-Americans were turned away or intimidated from voting across the entire state. The U.S. Senate later investigated allegations that Bilbo's supporters had unlawfully deprived black people of their right to vote.
Less than a year later, Jackie Robinson broke the color barrier in major league baseball, playing first base for the Brooklyn Dodgers, and President Truman issued an order ending segregation in the armed services. Evers was turned away at the voting booth again in the 1947 democratic primary.
He soon left Newton County, moving to Lorman, Mississippi, where he finished high school and enrolled in the fall of 1948 at Alcorn A&M College. As a student leader, Evers took part in a monthly inter-racial discussion group at Millsaps College in Jackson, where he learned for the first time about the NAACP. He met his future bride, Myrlie Beasley, who had grown up in Vicksburg and was also a student at Alcorn A&M. He graduated from Alcorn A&M in 1952. He and Myrlie married and moved to Mound Bayou, Mississippi.
There Evers worked as an insurance salesman for the Magnolia Mutual Insurance Company, which was owned by Dr. T. R. M. Howard, a black physician and member of the Regional Council of Negro Leadership. Evers joined the Regional Council and the NAACP and began to take part in boycotts of white businesses. His continuing exposure to the effects of public segregation and the poverty that African-Americans were experiencing motivated him to apply in January of 1954 to the University of Mississippi Law School.
His wife opposed his decision due to the financial hardship that attending law school would place on their family. The University sent his application to the State College Board. At the Board's request, State Attorney General J. P. Coleman interviewed Evers. An NAACP attorney from New Orleans was with him during the interview. Among other things, Coleman asked Evers, who was not yet 29, why he was not pursuing a business career rather than law and why he had waited so late to go to law school.
Coleman recommended that the State College Board reject Evers' application. Instead of formally rejecting him, however, the Board told him that his application lacked the required recommendations of two persons who had known him for the past 10 years. Before any further action on his application took place, Evers accepted a position as the Mississippi Field Secretary of the NAACP in the fall of 1954 after discussing it with Thurgood Marshall, then its chief legal counsel. The Everses moved to Jackson, and he opened an NAACP field office there. Later Evers would give his full support to James Meredith's ultimately successful court-ordered enrollment in 1962 at the University of Mississippi.
Looking back, it is virtually impossible to overstate the difficult — what must have then seemed insurmountable — obstacles that Evers faced. They were erected not only by state-wide elected officials, the State Legislature, and organizations such as the Mississippi Sovereignty Commission and the Citizens Council, with their networks of white and black informants that penetrated black and white organizations, but also from local newspapers — both white and black owned — and local television stations that for a time had virtual total control over all the local media outlets in Jackson.
In columns by Jimmy Ward and Charles M. Hills, the local Jackson dailies ridiculed, dehumanized, or demonized Evers and other participants in the civil rights movements. (A white woman recently told me that when she attended a meeting in 1963 at Tougaloo College, Evers spoke to the group, and she was totally taken aback by his calm demeanor and gentle spirit after having read what Jimmy Ward had written about him for several years.)
The weekly black newspaper, The Jackson Advocate, edited by Percy Greene, fully supported racial segregation. Greene criticized Evers for making too much money and railed against the "outside agitators" of the civil rights movement. In response, Evers, with the support of others, started The Mississippi Free Press as a source of information for the black community about what was happening locally and elsewhere in the Deep South to end Jim Crow and public segregation.
The obstacles Evers faced also came from the local business and religious community, both white (with some exceptions) and even black leaders such as Greene, and from the acts of terrorists within the Ku Klux Klan. They were also present in the deep divisions between national leaders of the NAACP and the leaders of other civil rights organizations as they debated their divergent goals and strategies. All of this washed over Evers as he supported and coordinated the local work of these different groups.
Evers once told Francis Mitchell, a journalist for Ebony magazine, that he had dismissed the idea of militant resistance early on because "it didn't take much reading of the Bible … to convince me … that I couldn't hate the white man and at the same time hope to convert him." In the light of the manifest and sometimes violent opposition to everything Evers believed in and worked for, an opposition not merely of him and his family but of his entire race, he must have held these religious convictions very close to his heart to be able to withstand the discrimination, rejection, humiliation, and ridicule.
Evers' assailant, who was also a veteran of World War II, apparently had a different view about the teachings of scripture and the meaning of freedom, justice, and equality. Over the sobbing of an anguished wife as she comforts her dying husband, one can hear the vengeful cry of Lamech, "I have killed a man for wounding me, a young man for injuring me," even though Evers did not know his killer and had never asked for anything other than what he believed was rightfully his.
Within two weeks, Byron De La Beckwith was arrested and charged for the murder of Evers. Bill Waller, Hinds County District Attorney, put on what is still regarded as a brilliant prosecution of the State's case, but two prosecutions ended in two mistrials. After 10 months in jail, Beckwith was released and returned to his hometown of Greenwood. In 1994, Beckwith was tried a third time for the murder of Evers. This time a jury convicted Beckwith with the State Supreme Court affirming his conviction. It should not be unfathomable — it should be understandable, even reasonable — why it is that for some people, reconciliation cannot begin without the closure of the process of justice.
In 1963, news of the fatal shooting of the NAACP's highest ranking official in Mississippi — within hours of President Kennedy's civil rights address — stunned the national civil rights movement. Funeral services were held in Jackson and then in Arlington Cemetery in Virginia, where Medgar Evers is buried. It is reported that 25,000 people viewed his casket before he was interred. Later, Taylor Branch would write this about Evers' murder:
In a subtle but important turn of perception, people referred to the killing as a political assassination instead of a lynching, adding both personal and historical connotations. White people who had never heard of Medgar Evers spoke his name over and over, as though the words themselves had the ring of legend. It seemed fitting that the casket was placed on a slow train through the South, bound for Washington so that the body could lie in state. In death, Evers inspired reappraisals, conversions, and heroics on a grand scale, but the extraordinary emotions also produced raw adjustments among the leaders [of the civil rights movement]. Some of them were at each other's throats before the funeral train left Jackson.2

The current brochure of Arlington Cemetery lists the grave sites, not only of President Kennedy, but also of Evers. The Evers' home at 2332 Guynes Street is now a museum that can be visited by appointment through Tougaloo College.
Guynes Street is on the route of Jackson's annual Martin Luther King, Jr. parade that begins at the intersection of Medgar Evers Boulevard and Martin Luther King, Jr. Drive. Guynes Street has been renamed for the writer, Margaret Walker Alexander, who lived a few doors down from the Everses and later wrote a poem memorializing him.
A branch of the public library, the local post office, the airport, and a pavilion within the airport housing a permanent exhibit about Evers, all bear Evers' name today. In October of 2009, Ray Mabus, Secretary of the U.S. Navy and a former Governor of Mississippi, named a T-AKE, a key naval supply ship, the USNS Medgar Evers. Secretary Mabus, who grew up in the same town as J.P. Coleman, invited Mrs. Myrlie Evers-Williams and their children to attend the ship's launch. They stood by her side as she christened the ship.
"After the final no there comes a yes / And on that yes the future world depends … It can never be satisfied, the mind, never." 3 Nor the indomitable human spirit in its courageous, inexorable quest for freedom, justice, and equality, however the quest is carried out, whether as a soldier driving a supply truck to the front lines in the heat of battle or as a citizen soldier laboring in the vineyards against racial discrimination.
---
John C. Henegan is a member of Butler, Snow, O'Mara, Stevens, & Cannada, PLLC, where he works in the Appellate and Commercial Litigation practice groups. This is his third in a series of articles about the people who were a part of the civil rights movement in Mississippi. The first reviewed Eric Etheridge's book, Breach of Peace — Portraits of the 1961 Mississippi Freedom Riders; the second reviewed Professor Charles W. Eagles' book, The Price of Defiance — James Meredith and the Integration of Ole Miss. This piece about Medgar Wiley Evers is based on reading different works about Evers or his times. Those works include Taylor Branch, Parting The Waters — America in the King Years 1954-63 (1988); Professor Eagles' book, supra; Minrose Gwin, Remembering Medgar Evers — Writing The Long Civil Rights Movement (2013); President John F. Kennedy's Civil Rights Address (June 11, 1963); Michael Vinson, Medgar Evers — Mississippi Martyr (2011); Eudora Welty, "Where Is the Voice Coming From?," which she began the morning of June 12, 1963, and is reprinted in The Collected Stories of Eudora Welty (1980); Wikipedia's biography about Evers; and a recent, misplaced article in The Clarion-Ledger, reporting that President Kennedy's speech was given a few hours before Evers died.
Taylor Branch, PARTING THE WATERS — America in the King Years 1954-63, at p. 827 (Simon & Schuster paperback ed. 1988).
Wallace Stevens, "The Well Dressed Man With a Beard," printed in The Collected Poems of Wallace Stevens 247 (1971).