Pat Bennett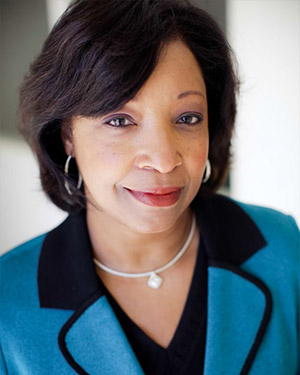 Pat Bennett is a native of Forest, Miss­issippi. One of ten siblings in a family of educators, Bennett knew she wanted to be a lawyer from a young age. She "loved watching Perry Mason" and knew from then on that she "wanted to be in the courtroom" and practice criminal law. Even though "all of her family went to JSU," Bennett chose Tougaloo because Constance Slaughter-Harvey — "the only African-American lawyer from Forest" at that time — went there. Bennett decided "that's where I'm going," she said.
After graduating from Tougaloo and then the Miss­issippi College School of Law, Bennett started her legal career at the Small Business Administration. It was 1979, the "year of the Easter Flood" in Jackson and the SBA was doing all it could to help close loans for people who had "lost everything." In addition to assisting people who were "in desperate situations," Bennett had "two great women lawyer mentors, Debbie Davis and Patricia Hancock" from the start.
After the SBA, Bennett went to the Miss­issippi Attorney General's Office under Bill Allain, working on consumer issues and the implementation of a new law to integrate children with special needs into the public schools. Bennett traveled around the state, "working with schools, the Education Department and faculty" to determine what services were available to Miss­issippi children with special needs and address hardships families were then experiencing.
At the AG's office, Bennett regularly appeared in the courtroom and felt like she was "making a difference."  She was also known as one of the "team of three," along with Robert Gibbs, also at the AG's office, and Mike Espy at the Secretary of State's office, so-called because they "went everywhere together."
When she got a call from Hinds County District Attorney Ed Peters, Bennett took the opportunity to fulfill her dream of practicing criminal law, "the reason she went to law school." She was "in the courtroom all the time," prosecuting "crimes against persons" felony cases, including crimes committed against children such as felony child abuse. She continued her work as a prosecutor as an assistant U.S. Attorney.
Bennett recalls wondering if some victims would ever recover from their trauma. She said one "way of knowing you've made an impact on individual lives" is when, "years later, someone walks up" and the person has "blossomed" since receiving "their day in court." She said she "played a small part" in a team effort by the police, prosecutor, and judge. Bennett said one of her most rewarding moments occurred when a young defendant on trial for participating in gang violence told her that by convicting him "You probably saved my life."
As an officer in the JAG corps and Miss­issippi Army National Guard, Bennett's career took a turn in a different direction when she was asked to serve as an adjunct at the JAG school at the University of Virginia. Al Harvey, a general in the National Guard and dean at MC School of Law, asked her teach a trial practice class each semester. In 1989, she joined the faculty for good. She teaches courses in criminal law and procedure, pretrial and trial practice, evidence, experts, mediation and arbitration.
Bennett serves many roles at the law school. In addition to serving as Professor of Law, she is Director of MC's Litigation and Dispute Resolution Center. When Dean Wendy Scott steps down on December 1, Bennett will begin serving as interim dean of the law school.
Bennett continues to be committed to community work and bar work, which includes currently serving as President of the Charles Clark Inn of Court. After the meetings, she goes bowling. "I'm a serious league bowler," she said.
Bennett said that the growth of the Miss­issippi Bar is one of the biggest changes since she "first started practicing," a time when she "knew all of the judges and lawyers." She said that while "different things account for" the growth, it demonstrates that practicing law can be a rewarding and profitable career.