Pat Evans and Granddaughter Honored for Outstanding Volunteer Service Article by Linda Thompson Featured Author
Posted
September 2015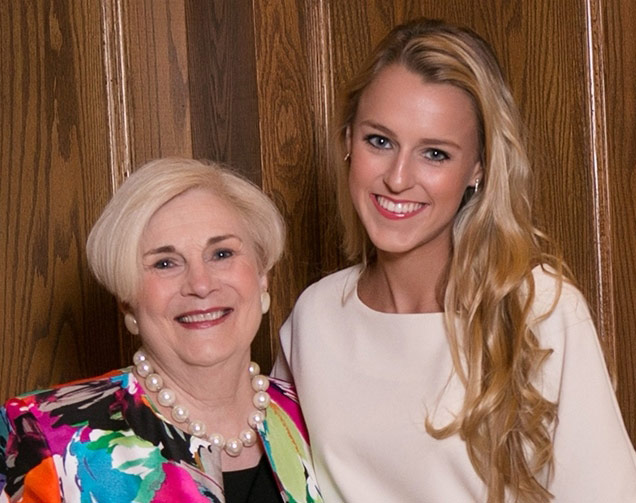 Goodwill Industries Volunteer Services recently honored CABA Executive Director Pat Evans for excellence in community volunteering. GIVS presented this year's awards at its Volunteer Salute event on August 20, 2015, before a packed house at the Country Club of Jackson.
Pat said, "Since 1985, Goodwill has held its Volunteer Salute, and I was honored to be selected this year. I was especially pleased, however, that my granddaughter Mary Reid Dixon, a senior at Madison-Ridgeland Academy, was also chosen and shared the event with me."
In her biographical sketch, Pat noted that her life consists of four moving parts. The first (and most important) is her family. The second is her volunteer work; the third, her church, the Chapel of the Cross in Madison; and the fourth, her career, the last 25 years of which were at Mississippi College School of Law (until she retired in 2013) and the Capital Area Bar Association.
Pat has served as President and Vice President of the Jackson Symphony League and chaired numerous of its important committees; a member of the Mississippi Symphony Orchestra Board of Governors; a member of the Board of Directors of the Arts Alliance of Jackson and Hinds County; Secretary of the Gallery Guild of the Mississippi Museum of Art; President-Elect and Vice President of the Pleiades Literary Club; President of her Luncheon Club; Treasurer of her Homeowner's Association; PTA President; and chairman of the statewide literary competition at St. Andrew's School.
In her church work, Pat has been a licensed Eucharist Lay Minister for more than 30 years. She has served as a member of the Statewide Advisory Committee for Lay Ministers, a Vestry member, and a delegate to the Mississippi Diocesan Council. Pat is also a trained Stephen Minister and Stephen Leader. The Stephen Ministry is a non-profit Christian education organization offering one-to-one Christian care to people who are going through some significant life crisis.
Mary Reid Dixon is the daughter of Leslie (Pat's daughter) and Justyn Dixon. Proud grandmother Pat commented, "Leslie and Justyn have done an outstanding job of rearing such a responsible young woman."
Mary Reid is President of the Student Body at Madison-Ridgeland Academy. Her many extracurricular interests include Habitat for Humanity Club, Latin Club, Rotary Club, Varsity Dance Team, HOBY Youth Leadership Program, Mayor's Youth Council, and Yearbook Staff Design Editor. Her community service incudes volunteer work for the American Heart Association, Make-A-Wish Foundation, Mississippi Animal Rescue League, Mustard Seed, and Stewpot Community Services. She has served as a Mississippi House of Representatives page, and she has received many awards and honors throughout middle school and high school including a citizenship award, faculty-nominated leadership and service awards, the United States Achievement Academy Advanced Placement Award, and election to the National Honor Society.
Cutline for the photo: Pictured at the Volunteer Salute on August 20th are CABA Executive Director Pat Evans and her granddaughter Mary Reid Dixon, both honored for their community volunteering by the Goodwill Industries Volunteer Services.