MVLP's New Executive Director Article by Meta Copeland Featured Author
Posted
December 2014
In November of 2014, the Mississippi Volunteer Lawyers Project announced the selection of Gayla Carpenter-Sanders as its new Executive Director and General Counsel. Gayla follows Tiffany Graves, who has joined the Mississippi Access to Justice Commission as its Executive Director.
Formed in 1982, MVLP has a long-standing history of providing a wide array of state-wide legal services to Mississippi's poor and less fortunate. More recently, MVLP has narrowed its focus to domestic matters.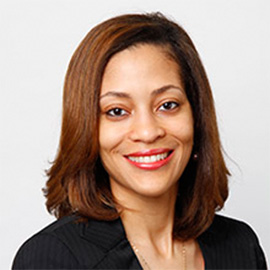 "We were extremely fortunate to find someone as qualified and dedicated as Gayla to lead MVLP", said John McCullough, Chairman of the Board of Directors of MVLP. "She has an unwavering passion for our mission, and I'm convinced she will do a fantastic job. While MVLP and the bar in general will benefit from Gayla's work, the main beneficiaries will be those individuals who might otherwise not be able to find legal help."
Gayla joins MVLP after a career as a litigation associate with the Wells Marble and Hurst law firm, where her work focused on insurance defense, business organization and family law. She was recognized as a Super Lawyers Mid-South Rising Star in insurance defense in 2012, 2013 and 2014, and she was named to the Lawyers of Color Hot List for 2014. Gayla is a past member of the Mississippi Bar's Women in the Profession Committee and was selected to participate in the 2014 Mississippi Bar Leadership Forum. She is a member of the American Bar Association, Mississippi Bar Association, Magnolia Bar Association, National Bar Association and the Madison County Bar Association.
Gayla's role with MVLP will build upon her past volunteer work in the Jackson area, including frequent volunteer work with MVLP and community outreach in underserved areas of the community. In 2011, she received the MVLP Pro Bono award for her work with MVLP and its clients. In 2014, Gayla received the 2014 Board of Directors Award from the Hinds County Human Resource Agency for her work with the Hinds County Meals on Wheels program.
Gayla is originally from Vicksburg, Mississippi. She attended Tougaloo College, where she received Bachelor of Arts degrees in English and Political Science. She attended law school at the University of Florida in Gainsville, Florida, where she was a Virgil Hawkins Scholar and a member of the Black Law Students Association.
CABA also welcomes Gayla Carpenter-Sanders to her new leadership role and looks forward to continuing our partnership with the Mississippi Volunteer Lawyers Program. If you would like to contact Gayla, she can be reached at gsanders@mvlp.org. To learn more about MVLP and its legal team, see www.mvlp.net.