Orlanskys Honored with CABA Professionalism Award Article by David Maron Featured Author
Posted
June 2014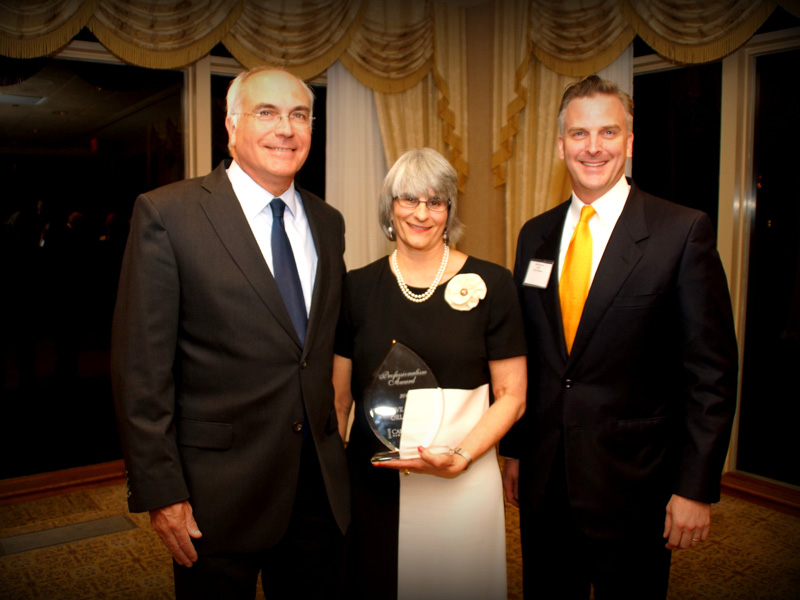 2014 CABA Professionalism Award recipients, Steve & Beth Orlansky with David Maron.
Recipients of the Capital Area Bar Association's Professionalism Award must be attorneys who adhere to the highest professional standards of ethics, integrity, civility and courtesy, have shown a commitment to the practice of law as a learned profession with the highest level of skill, and have contributed significant time and resources to public service. The list of past recipients of this award is indeed a Hall of Fame, representing the very best of what each member of the bar should aspire to. The recipients this year further distinguish that list. Beth and Steve Orlansky were nominated and considered jointly and share this award together as the 2014 recipients.
To those of us who have practiced law in Mississippi — particularly in the Capital Area — Steve and Beth Orlansky are no strangers. Their professional careers and recognitions speak to much of their high ethics, integrity, civility, intellect and skill as advocates. But the recognitions of Best Lawyers, AV Rating, Fellow of the Mississippi Bar Foundation and others, while numerous and compelling, only tell part of that story.
In spending any time in conversation with the Orlanskys, one quickly learns not just about the professional dimension of their work, but the spirit with which it is practiced. Steve's firm, Watkins & Eager, is a distinguished firm with outstanding lawyers. I am reminded of a number of years ago when Steve's senior partner, Mr. Bill Goodman, received this Award.
He told how, upon beginning his legal career, his grandfather, Mr. William Watkins, presented him with a book inscribed "May you have an honorable career." This year, the Capital Area Bar Association recognizes two (2) lawyers, husband and wife, who truly exemplify an honorable career.
Steve is a graduate of LSU and of the University of Mississippi School of Law. His judgment, professionalism and legal skills make him a wise counselor to his clients and a zealous and fair advocate.
Other lawyers who have worked closely with Steve have spoken of his "strong, unwavering ethical compass" and even those on the other side of cases have said things like, "he has been pleasant, focused on the business at hand …  resulting in substantial justice being done for all involved."
Steve has also combined his successful private practice for corporate clients with service to the poor and disadvantaged in many ways including as a 10-year member of the Board of Mississippi Legal Services and service on the Mississippi Equal Justice Foundation serving as its chairman from 2004–2006.
Beth, a graduate of Stanford University and the University of Tennessee Law School. She was recruited to Mississippi to work at Butler Snow. (Some reports suggests that Steve was recruited to Jackson, but other accounts suggest that Steve was an added bonus when Beth was recruited. Either way, the Mississippi legal profession has been enriched by both of them.) Beth's clients in private practice beginning with Butler Snow and later with Ott & Purdy and McGlinchey Stafford benefitted from her keen intellect and sharp legal skills. And more recently, as the advocacy director for the Mississippi Center for Justice (where she also serves as its Child Care Advocate) her clients have been the beneficiaries of those skills as well.
Their son Abram, speaks of his mother's work with the Mississippi Center for Justice and pro bono efforts as "using her considerable legal skills and acumen in the highest possible way."
But the professional accolades aside, Beth and Steve also have an unwavering commitment to public service that touches many areas of community life. Whether as charter members of Parents for Public Schools, on the board of Stewpot Community Services, with Beth Israel, or with youth at Henry S. Jacobs Camp (where incidentally I'm told they first met), their service reflects a steadfast commitment and calling of a generation that learned from their parents that a profession — and the legal profession in particular — is not just a business. The law as a learned and noble profession gives us the privilege to practice, but with that privilege comes the responsibility to our clients, to the law, to our colleagues, to the community, to the less fortunate, to those in one's spheres of influence, and most critically to one's family. Steve and Beth have been examples and mentors to many.
Theirs is a legacy of priorities, values and service. Steve and Beth truly reflect the highest ideals as lawyers, parents, friends, and community servants. I know their families are proud and in particular, their parents (who were with them when they received this award at this year's Evening Honoring the Judiciary. Steve's father, Judge David Orlansky, served with distinction in the Northern District of Mississippi for many years before his retirement in 1995).
As is written in Solomon's Wisdom Book, Proverbs 23:23–25 "The father of the righteous will greatly rejoice and he who begets a wise child will delight in him. Let your father and mother be glad and let her who bore you rejoice."
We congratulate them, celebrate with them, and honor them as the 2014 Capital Area Bar Association Professionalism Award recipients, our friends and colleagues — Beth and Steve Orlansky.
CABA Professionalism Award
Each nominee for the CABA Professionalism Award must be a practicing attorney who demonstrates consistent adherence to the professional standards of practice, ethics, integrity, civility, and courtesy; encourages respect for, and avoided abuse of, the law and its procedures, participants, and processes; and shows a commitment to the practice as a learned profession, to the vigorous representation of clients, and to the attainment of the highest levels of knowledge and skill in the law and contributed significant time and resources to public service.
Past recipients of the CABA Professionalism Award:
David Kaufman
Robert Gibbs
Barry Ford
John Henegan
Ben Piazza
Barry Powell
Christy Jones
John Corlew
Gee Ogletree
William Winter
Louis Watson
Tom Crockett
Alex Alston
George Hewes
William Goodman
Reuben Anderson
Harold Miller