New Court of Appeals Judge Ceola James Sworn In Article by Beverly Pettigrew Kraft Featured Author
Posted
May 2013
Mississippi Court of Appeals Judge Ceola James told those attending her investiture that she achieved her position by faith and hard work.
"My journey is a journey of faith and what God can do for you," Judge James said. "My grandmother was a hard worker," she said, recalling how her grandmother, as part of a farming family of all girls, had plowed with a mule. "What my grandmother taught me is that hard work does not hurt you, even if you are a girl."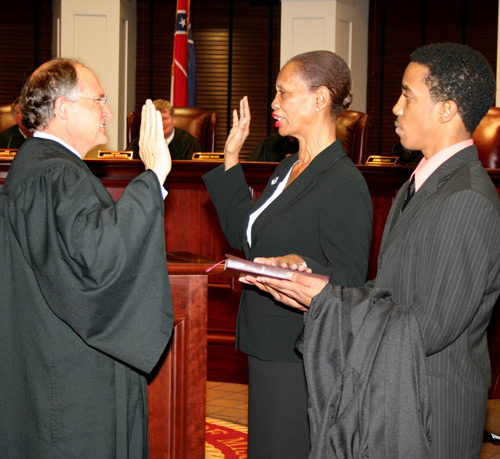 Judge James, of Vicksburg, was elected to a four-year term in a special election in November 2012. She was sworn in and began her duties on the Court of Appeals on January 7, 2013. An investiture was held January 16, 2013 in the Court of Appeals En Banc Courtroom in Jackson.
Former Warren County Chancery Clerk Dot McGee said during her legal career, James often represented people for free because they needed help. "She loves people and … she was always willing to represent the common people," McGee said.
Louisiana Second Circuit Court of Appeal Judge Felicia Toney Williams of Tallulah, special guest speaker, said she shared much in common with Judge James, including representing people who couldn't afford to pay. "I would represent a whole lot of people who would bring me peas and tomatoes for pay because that's all they had." Judge Williams recalled that Judge James had told her it was her job "to reach down and pull others up." Judge Williams said, "She will pull somebody else up. They will pull someone else up, and the cycle will go on. Just make sure when she reaches down to pull you up, that you are willing to do that hard work the way she did."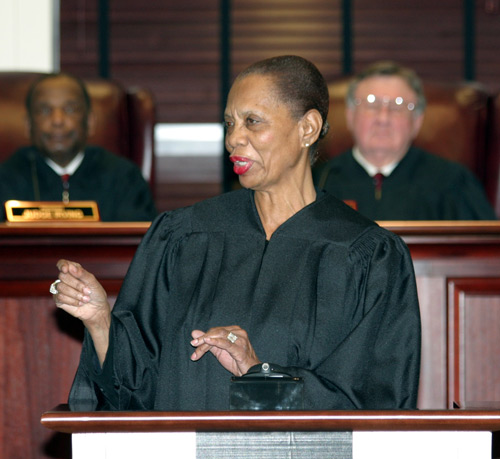 Judge Williams said those who hold judicial positions serve as examples, especially to children. "We have an obligation to them as jurists, as attorneys, as members of the community to reach out in every way we can and to help them. I want the children to understand that they can strive for it, work hard for it, be honest, and have anything in this world that they so desire, that hard work will get it, prayer, belief in doing right, for there is only one right," Judge Williams said.
"Hard work got us where we are," Judge Williams said. "Both of us have worked extremely hard. I would be remiss not to mention that we worked hard as females with children."
Judge James previously served as Ninth District Chancery Judge from 1999 through 2002. She was appointed interim Warren County Justice Court Judge in 1997, and served by appointment as a judicial special master in Warren County Chancery Court from 1992 to 1994. She earned a law degree from Mississippi College School of Law, and was admitted to the practice of law in 1977.