Laurel, Mississippi: Your "Home Town" Away From Home Article by Stevie Farrar Rushing Featured Author
Posted
December 2019
About two years ago, I heard some chatter about a television show focused on Laurel, Mississippi. I was shocked. Don't get me wrong, Laurel has played a starring role in my life. Just 45 minutes from my hometown of Waynesboro, Laurel was the closest place to see a movie and to shop somewhere that wasn't WalMart. It was the setting of many a trip with my Gammie that started with a new hairstyle at Hatfield's and ended with a hot dog and lemonade at the Corn Dog 7 in the Sawmill Square Mall. And Laurel housed most of my dad's family, meaning a road trip (and too many Laurel High football stories) every holiday. So I appreciated Laurel — but would a national television audience?
Turns out, it did. Now entering its fourth season, HGTV's "Home Town" follows Ben and Erin Napier's renovation of Laurel homes that have seen better days. Distinguishing their show from the typical home-improvement spectacle, Ben and Erin take time to explain the home's history and to curate the home with locally sold items and handmade pieces from Ben's woodshop. And while the work is underway, viewers catch a glimpse of the charm Laurel has to offer.
The Laurel in "Home Town" is not the Laurel I grew up with; it's better. Laurel is revitalized, and people travel across the country to witness it. Thankfully, we Jacksonians don't have to; Laurel is a mere two-hour car ride away. In fact, Laurel is one of the easiest weekend getaways — so easy, I went ahead and planned the weekend excursion for you.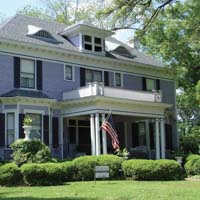 Bed and Breakfast
While Laurel houses the typical hotel, staying at a bed and breakfast is really the way to go if you want the full historic feel. Wisteria Bed & Breakfast is Laurel's oldest BnB and located on the beautiful Fifth Avenue. But if you want to be on the main drag, look at Sweet Somethings Bed & Breakfast; it's downtown and over a bakery.
Wine Down Downtown
After checking into your BnB, kick off your weekend with this new local event. From 5:00 to 8:00 pm on Fridays, local merchants offer wine tastings in downtown Laurel. For $15.00, you get a reusable wine cup and can peruse the local shops while sampling wine and hors d'oeuvres.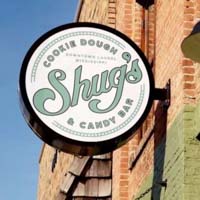 Friday Dinner
When hunger hits, you have a few dinner options just steps away. Mimmo's offers simple and consistently delicious Italian food. But you can never go wrong with Café la Fleur, a local staple and purveyor of a fantastic shrimp bisque. Regardless of your dinner choice, dessert must be had at Shug's Cookie Dough & Candy Bar.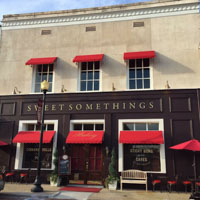 Saturday Breakfast
Saturday is going to be busy, so fuel up early. Whether you prefer sweet or savory for breakfast, Laurel has you covered. Start off your Saturday with coffee and pastries from Sweet Somethings Bakery. Or swing by The 5000 food truck for something more substantial.
Downtown Shopping
After breakfast, it's time to shop downtown Laurel. If you're in the market for a unique gift, check out Southern Antiques and the Laurel Leaf. Adam Trest Home probably has the new interior piece you didn't know you needed. And if there's room in the car for a new piece of furniture, stop by JParker Reclaimed and Lott Furniture Company (which is celebrating 100 years in downtown Laurel). There's plenty of stores to keep you busy, but make sure you carve out time for two: the Laurel Mercantile Co. and the Scotsman General Store. Owned by Ben and Erin, these stores offer everything from soaps and sweatshirts to handcrafted butcher blocks and original watercolors. Personally, I recommend the Laurel candle as a souvenir; it smells just like the sweet olive trees that line Fifth Avenue.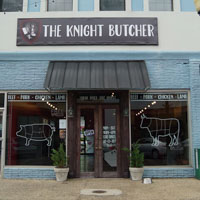 The Knight Butcher
When the shopping works up your appetite, head to the Knight Butcher for lunch. Weather permitting, there's probably live music. And almost always, there's a sandwich special. Make sure to grab some jerky for the ride home and one of their incredible meat specials for later in the week.
The Rusty Chandelier
If you time your trip right, you can hit the Rusty Chandelier on Saturday. Open the third weekend of each month, the Rusty offers items old and new. Each show sees fresh inventory, so no trip to the Rusty is ever the same. My advice: Arrive caffeinated and fed. And don't be alarmed if the woman working the counter looks just like me — that's my mom. Tell her I sent you.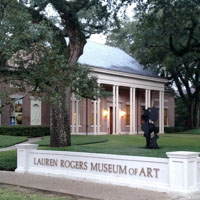 Lauren Rogers Museum of Art
Many people don't realize that Laurel houses this cultural gem. Built in 1923, the Lauren Rogers Museum of Art is Mississippi's oldest art museum and is known for its extensive collection of North American Indian Baskets. Check the Museum's calendar before you arrive for special events like children's pottery classes or seasonal festivals.
The Loft
After a full day of exploring, it's time for dinner. The Loft is the place to be on a Saturday night. Sit outside. Order the steak. Thank me later.
Slowboat Brewing Company
If you like live music, then you'll want to end your night at Slowboat Brewing Company. This brewer-owned and family-operated microbrewery offers a low key atmosphere and a variety of Mississippi brews. It's the perfect setting to plan your next weekend getaway to your "Home Town" away from home.
---
Stevie Rushing is an associate at Bradley LLP.