Meet Newly Elected Mississippi Supreme Court Justice Robert P. Chamberlin Article by Blake Smith Featured Author
Posted
March 2017
Newly elected Mississippi Supreme Court Justice Robert P. Chamberlin has some advice for a lawyer appearing before him for the first time: "Be prepared, and be concise," he said.
Chamberlin won a runoff election on Nov. 29, 2016, when he received around 55% of the vote for District 3, Place 1. Justice Ann H. Lamar held the position that covers 33 Mississippi counties before she retired after nearly a decade on the Mississippi Supreme Court.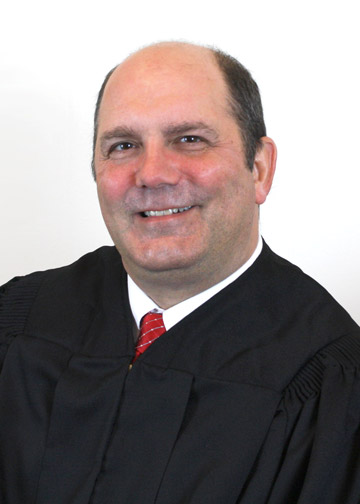 "I felt like, with the retirement of Justice Ann Lamar, that my qualifications and experience were things I had to offer and that this was the right time to offer myself for this position," Chamberlin said. He has more than 12 years of experience as a judge.
On Nov. 24, 2004, former Gov. Haley Barbour appointed Chamberlin as circuit judge of Mississippi's 17th Judicial District, including DeSoto, Tate, Panola, Tallahatchie, and Yalobusha counties. During his time on the bench, Chamberlin and Lamar created the district's drug court in 2006. He also was a chairman and vice-chairman of the Mississippi Conference of Circuit Judges.
Before he was a circuit judge, in 1999 Chamberlin was elected state senator for District 1, Desoto County, Miss. The Mississippi Law Enforcement Officers' Association selected him as "Legislator of the Year" in 2003.
From 1991–1999, Chamberlin was a municipal judge for Hernando, Miss. He was a municipal prosecutor for Horn Lake, Miss., in 1992.
Chamberlin was in private practice for 14 years and was the DeSoto County, Miss., Board of Supervisors' attorney for four of those years. He was admitted to the bar in 1990 and received a B.A. from the University of Mississippi.
Chamberlin's approach to deciding a case is straightforward. "Apply the law to the facts of the case to reach a just and proper decision," he said.
But brief writers beware; there are three words and phrases Chamberlin dislikes the most. "Ludicrous, preposterous or any other such disrespectful language, followed closely by the phrase 'strongly argue'," he said.
Chamberlin's eight-year term began in January 2017. He took the oath of office on Jan. 3 at the Mississippi Supreme Court in Jackson, Miss, and held a formal investiture ceremony on Jan. 8 at the DeSoto County Courthouse in Hernando, Miss.
"It is my honor and privilege to be allowed to serve the citizens of Mississippi on their highest court," Chamberlin said.