President's Column: CABA Members Remain Steadfast During COVID-19 Crisis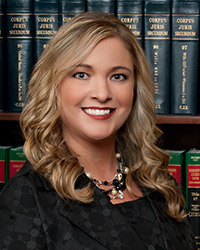 Article by Tiffany P. Grove 2019 - 2020 CABA President
Posted
June 2020
I had a divorce trial on my docket today; the lawyers and litigants wore face masks inside my courtroom while peaceful protestors marched down the street outside the building. These are strange times with an abundance of turmoil and unrest surrounding us. Amid a global pandemic and protests across our nation calling for justice for George Floyd, I am reminded that the practice of law entrusts us lawyers and judges with the duty to uphold the rule of law and defend the fundamental rights, justice and equality secured under our laws. The steadfast dedication of the bench and bar has been and remains imperative to preserving what most defines us as a nation – our legal system and our written constitution. By the time this newsletter is read, I will be CABA's Past President. The 2019–20 CABA year ended without our usual activities and traditions. We weren't able to hold our April membership meeting but we were able to use those funds to donate $2500 to MVLP and send tip money to the staff at the Capital Club. We weren't able to host our annual dinner event, the Evening Honoring the Judiciary, where the president traditionally passes the gavel and publically thanks those who served the organization throughout the year. Luckily, I have this final presidential column to provide such a platform.
Jennie Eichelberger, now CABA's president, had more work to do as vice president than most. As a member of the judiciary, I was unable to personally solicit sponsors or memberships. Jennie picked up my slack by helping write letters and making calls to perform some of these functions, all of which are usually performed by the president. I know CABA is in very good hands under her experienced leadership. Clarence Webster served as secretary-treasurer this past year and made sure we stayed on budget and practiced fiscal responsibility throughout the year. He also worked as the golf tournament liaison and has worked hard with that committee to reschedule the event amid the pandemic. Committee chair Jake Bradley and others did great job rounding up golf sponsors. Our thanks go out to those sponsors.
Margaret Cupples, Nakimuli Davis-Primer, Kaytie Pickett, and Lanny Pace served as our board members this past year. Each one served as a liaison for a CABA committee and helped make sure our CABA events and activities were successful. Will Manuel occasionally ventured out from CABA's Presidential Retirement Home and provided us with his knowledge and experience. It was a privilege to work alongside a team of so many dedicated lawyers.
I deeply appreciate having the opportunity to serve as president of CABA this past year. I know each of you will join me in thanking our Executive Director Jane Harkins and all the 2019–20 committee chairs and volunteers. As we begin this new bar year, let me congratulate CABA's newly elected officers and directors. Kaytie Pickett will serve as our secretary-treasurer this year and we welcome two new board members, Keishunna Webster and Stephanie Taylor. We look forward to the upcoming years during Clarence Webster's 2021–22 presidential term, Kaytie Pickett's 2022–23 presidential term, and in the many years to come. Meanwhile, I'm off to join Will Manuel at CABA's Presidential Retirement Home.